FRIDAY, APRIL 28, 2023
8:00PM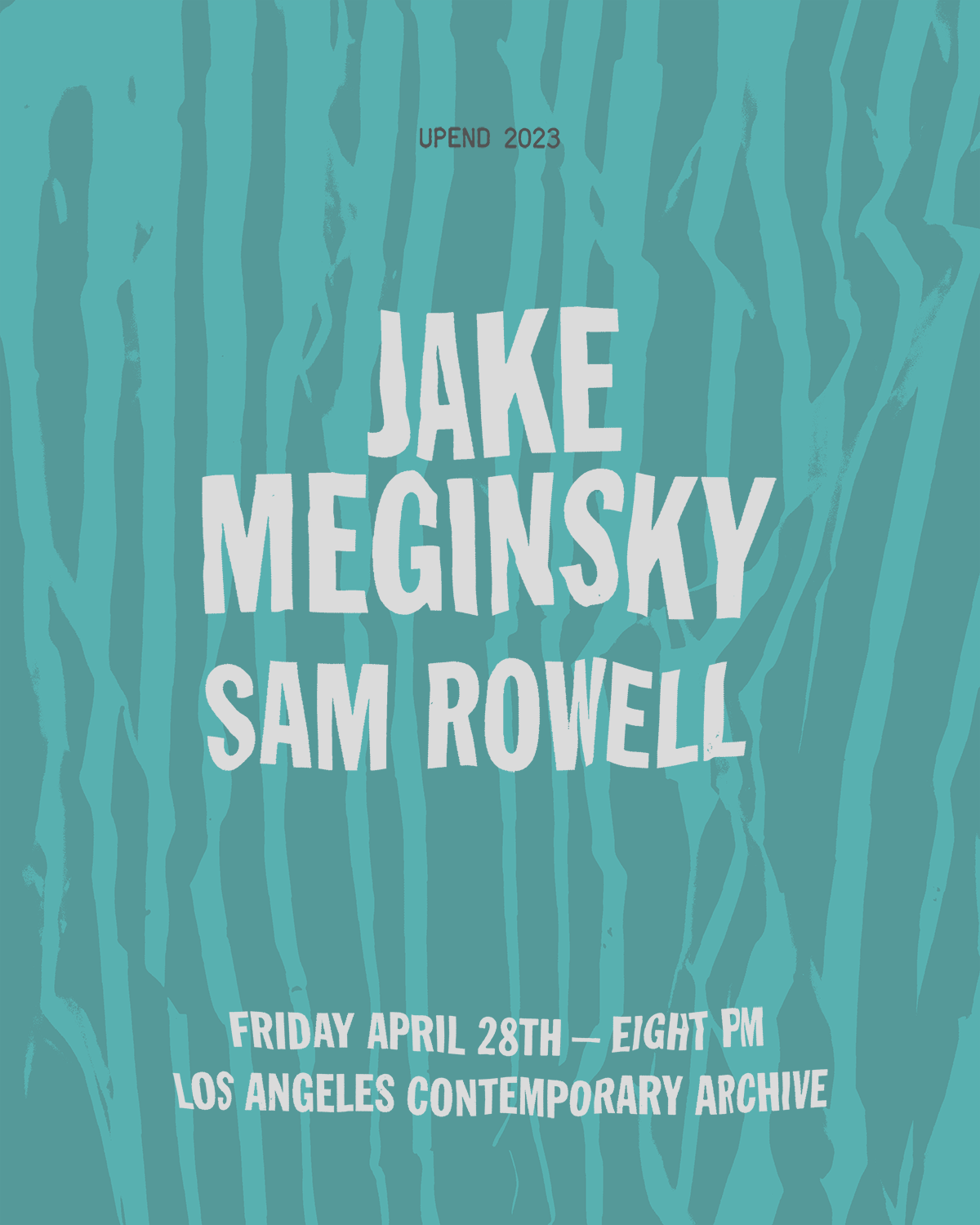 JAKE MEGINSKY
SAM ROWELL


LOS ANGELES CONTEMPORARY ARCHIVE
709 N HILL STREET
(ENTER ON ORD)
LOS ANGELES, CA 90012

Electro-acoustic percussionist Jake Meginsky performs live at a *free* concert at Los Angeles Contemporary Archive in Chinatown. Event also includes a live performance of Special Collections by Sam Rowell.


Based in Western Mass,
Jake Meginsky
is a rarefied percussionist who can embrace, eschew, or simply chew on rhythm. While his current live method is modular synthesis, his intuition as an improvisor and his instincts as a hitter-of-things are well intact, as he deftly coaxes pulse and sequence into organic clusters of attack. A new LP –
Trintities
– on Portland, Maine's Poole Music, showcases his "…adventurous vein of pointillist minimalism: stark, oblique, cerebral, fluid. It's free music in both form and function, liberated from rhythm, pattern, or expectation. Abrupt flurries of metallic reverberations ping and echo against charged silences like avant-garde morse code."
Jake has rattled and swung with a set of collaborators wild and diverse including Bill Nace, Alvin Lucier, Joan La Barbara, Greg Kelley, Joe McPhee, Paul Flaherty, and John Truscinski. Alongside his ceaseless activity organizing events, performing, recording, and teaching, the widespread acclaim of his full-length documentary about his key collaborator and mentor – 𝘔𝘪𝘭𝘧𝘰𝘳𝘥 𝘎𝘳𝘢𝘷𝘦𝘴 𝘍𝘶𝘭𝘭 𝘔𝘢𝘯𝘵𝘪𝘴 – has rightly placed Meginsky in the vanguard of the interdisciplinary discourse of vision, sound, motion, and thought.
PLUS
L.A.-based musician, artist, and creative broadcaster
Sam Rowell
performs a rare in-person iteration of
SPECIAL COLLECTIONS
, her long running creative radio show.
Anticipate an audio interrogation of many subjects past explored on the program – volcano infrasound, owls, metal detectors, swinging power lines and bridges, radio interferences of all flavors, telluric interference from the soils of Los Angeles, things recorded underwater and over water and in space – it will sound like everything that it is and nothing you have heard before.
Los Angeles Contemporary Archive is located at 709 N. Hill Street in Chinatown.
Enter on Ord Street, under the LACA sign.
---